Frequently Asked Questions
Please read this first. Your questions may be answered in this section.
I need something printed quick, how soon can I get my print job?
We can print most jobs and have it ready for pickup or shipped within one to two business days.  Sometimes we can even have the job ready by the same day, depending on our work load.  The most important thing is having a high resolution PDF file ready to print.  It's best to email us with the file and state your deadline.  If we know your exact deadline, we can do our best to meet it.
Do you deliver or ship?
Yes, we deliver to the local area and also ship using either USPS, UPS or Fedex.  Most shipments to local addresses will get there within a day or two.  If you need your print job by a certain date, please let us know and we'll make sure to use the appropriate shipment method to meet your deadline.
Which file formats do you accept?
We accept the following Mac or PC version desktop design formats:
Adobe Acrobat (PDF) – Preferred
CorelDraw
Adobe Photoshop
Adobe Illustrator
Adobe InDesign
Microsoft Publisher
Canva (Convert to PDF)
.EPS or JPG or TIF
Files from Etsy providers
*Please include a PDF file with your native files.
Are you able to print files purchased from Etsy?
Yes. We print a lot of invitations, announcements, labels, posters and canvas prints purchased on Etsy.  We only request that you ask the Etsy designer to provide the file in PDF format.  Please include crop marks and bleeds, if applicable.  You should always request this format when you purchase a file from Etsy.
Do you accept files from Canva?
Yes, we accept files from Canva.  Please follow the instructions on how to save PDF files using our tutorial
How do I create bleeds and crop marks in Adobe InDesign?
Click on the link below to view instructions on how to add crop marks and bleeds to your Adobe InDesign file.
Please save this file in PDF format.
How do I create bleeds and crop marks in Adobe Photoshop?
Click on the link below to view instructions on how to save your high resolution print PDF file when using Adobe Photoshop.
How do I create bleeds and crop marks in Adobe Illustrator?
Click on the link below to view instructions on how to add crop marks and bleeds to your Adobe Illustrator file.
Please save this file in PDF format.
What are bleeds and crop marks?
In printing parlance, a bleed is a piece that is printed right to the edge of the paper. We don't really print to the edge-we print the piece .25″ larger and then trim it down to the finished size. If you want your piece printed right to the edge, be sure to design it from the beginning with an extra .25″ beyond the finished dimensions. For instance, if your finished piece is 8.5″ by 11″, layout your document with a size of 8.75″ by 11.25″. After printing, we'll trim .125″ from all sides.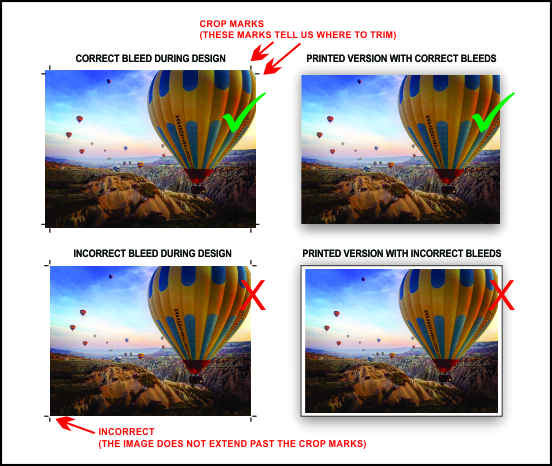 My office is out of state. Can you ship jobs directly to my employee's house or to another office?
Yes.  Ever since COVID started, we have been drop shipping business cards, brochures, flyers, etc. directly to company employees.  With so many employees working from home these days, we make it easy for companies to order directly from us and we will ship or deliver directly to their employee.
How do I send or upload you my files?
What is the difference between the RGB and CMYK color format?
RGB refers to the primary colors of light, Red, Green and Blue. RGB is the standard format used for video monitors, television screens, digital cameras and scanners. CMYK refers to the primary colors of pigment: Cyan, Magenta, Yellow, and Black. These are the ink colors used in "4-color process printing", commonly referred to as "full color printing". RGB and CYMK are not compatible formats. RGB files must be converted to CYMK before printing can occur. It is physically impossible for a printing press to exactly reproduce colors as seen on a computer monitor.
How can I be sure that my file is print-ready?
If you're not sure that your file will work, just email it to us and we'll look it over. If we discover anything that will keep us from producing the printed piece you want, we'll let you know. Please remember, we will only look for print-specific problems in your file. We will not make design suggestions, check your spelling or correct your grammar. The customer is responsible for proofreading all documents.
How can I reach someone for questions or instructions?
You can call us at 703-591-1708 and speak to a staff member or you can always email us at web@printingideas.com
What if I found a mistake in the artwork?
As a customer, you are responsible for the accuracy of your artwork. You are encouraged to carefully inspect the positioning, copy, and design elements in your art files before submitting them to us. Once we receive approval to begin the job, we get started on it right away so there may be additional charges if you make changes after the approval.
What is meant by "image resolution" and what is best for my print job?
Digital images are made up of small dots that combine to form the overall picture. The number of dots making up an image is known as its resolution. Resolution is stated in dots-per-inch or dpi. A typical website image has a resolution of 72 dpi. Images with a resolution of less than 250 dpi will not reproduce well on press, resulting in images that are fuzzy, choppy or grainy. Likewise, a resolution in excess of 300 dpi will not noticeably improve the quality of the image but will definitely increase the size of the file. The optimum resolution for printed images is 300 dpi.
It is important to set the image's resolution to 300 dpi at the final image size of your printed piece. If you enlarge an image, you lower the resolution since the number of dots remains constant and the size increases. We do not recommend enlarging an image in your layout program more than 125% or reducing more than 30%.
Do you ship or deliver your products?
We usually ship using UPS, FedEx or USPS and the shipping costs vary on a product-by-product basis. We also use a local courier service for same day local deliveries. Local orders can also be picked up during business hours; delivery charges may apply.
What is your address, email, phone number and operating hours?
Printing Ideas, Inc.
9925 Main Street
Fairfax, VA 22031
Business Hours: Monday through Friday, 9AM – 5PM EST
What methods of payment do you accept?
Currently, we accept Visa, MasterCard, Discover, and American Express. We also accept personal and/or company checks for payment, as long as payment is received according to the terms of sale.  Most payments for invoices can be made online through our website or one of our customer reps will send you a secure payment link to make your payment directly online.
How long will it take for an e-mail reply to an inquiry?
We try to reply all emails as they come in during business hours. Depending on the inquiry, you should expect an answer within 24-48 business hours. If you email during the weekend, we will get back to you the following business day.
How well will my job match what I see on my monitor?
People are often surprised at how well their printed pieces resemble what they saw on their computer screens as they were designing. However, because of the wide variance in monitor calibrations, and more specifically, the incompatibility of the video (RGB) and commercial printing (CYMK) formats, printed colors typically do not exactly match the colors on any specific monitor. If your project is color sensitive, consulting a Pantone Matching System (PMS) swatch book is your best means for seeing how the colors in your artwork will look once they have been printed.
Will I always receive exactly the quantity I order?
Often, we ship you slightly more than you ordered, free of charge. Printing industry trade standards allow for an over/under tolerance of up to 10%. If you plan to send your print order to a mailing house or need a guaranteed quantity, we recommend that you order the next available quantity.
What is Thermography printing?
Thermography produces raised printing similiar in appearance to engraving but using a different process. In thermography, a special powder is added to the ink printed on the paper. The printed piece is heated and the powder and ink mixture dries to form a raised effect on the paper. Thermography is often used in place of the more expensive engraving process to produce wedding invitations, business cards, and letterhead. To see samples of thermography printing, please click here.
Do I need to send fonts with my print job?
Whenever possible, convert all text/type in your documents to paths or outlines. This eliminates the need to send fonts with your files. Most page layout software can easily do this conversion. Note: once the text is converted to paths, it cannot no longer be edited.
If you are sending files in their native application format and do not convert the text to paths or outlines, you must include each font that you have used in your project.
What our customers are saying.
We pride ourselves on delivering the highest quality products while providing exceptional customer service.
 "Steve was fantastic to work with. We had many last minute items we needed for an event and he got us everything we needed quickly."
— Holly D., 5 Stars on Google
 "Steve is always extremely responsive and professional, with a very fast turnaround time on high quality work for good value."
— Samantha F., 5 Stars on Google
 "Very professional. Cost effective. Good quality printing. I'm extremely pleased with the service I received. Thank you, Steve."
— Shireen T., 5 Stars on Google
Get a free quote for your next printing job
Most quote requests will be returned within 24-48 hours. For an immediate estimate on your print job, please call us to speak to one of our account executives. 703-591-1708
Our Printing Services include
• Digital Full Color Printing • Large Format Printing – Banners, Posters, Signs & Window Graphics
• Offset Printing • Thermography (Raised Ink Printing) • Spot Color (Pantone) Printing
Below is a partial list of the top quality printing products and services we provide.
• Business Cards
• Brochures
• Newsletters
• Direct Mail
• Every Door Direct Mail (EDDM)
• Carbonless Forms (NCR)
• Envelopes
• Letterhead
• Slicks
• Data Sheets
• Postcards
• Flyers
• Manuals, Booklets, and Annual Reports
• Memo and Note Pads
• Presentation Folders
• Bottle & Product Labels
• Invoice & Service Order Forms
• Wedding Invitations & Announcements
• Foil Stamped Business Cards
• Silk Laminated Business Cards
• Soft Touch Postcards and Business Cards
• Double Thick Business Cards
• Painted Edge Business Cards
• Raised Spot UV Printing
• Coroplast & Yard Signs
• Posters mounted to foam core or Aluminum
• Window and Floor Graphics
• Retractable Banner Stands
• Static Clings
• Indoor/Outdoor Banners, Posters & Signs
• Vehicle Magnets and Decals
• Legal Document Copying
• Offset and Thermography Printing
• Other Services: Cutting, Bindery, Numbering, Perforation, Die Cutting, Embossing, Saddle Stitching, Drilling Holes, and Folding